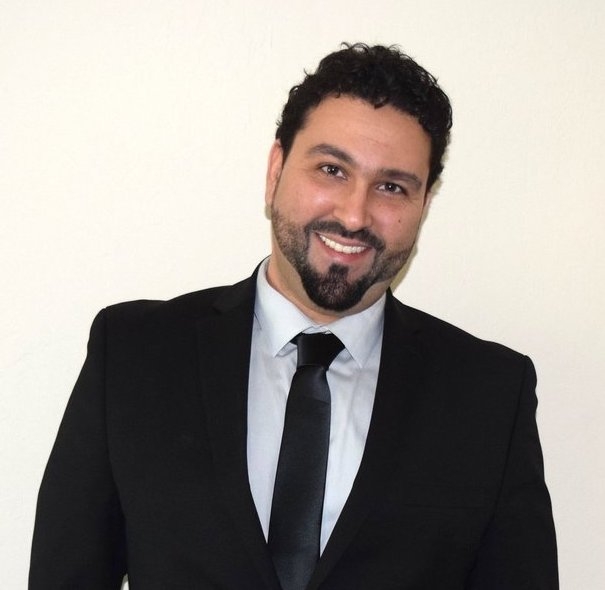 Focus: Spiritual psychology, relationships, men, young adults.
Karim A. Serageldin
Founder of Noor HC (2011) and the Coffee with Karim podcast (Ramadan 2017)

B.A. in Psychology & Comparative Religion - University of Massachusetts, Boston.

M.A. in east-west Psychology & Spiritual Counseling - California Institute of Integral Studies, San Francisco.

Strategic interventionist and coach at Purify Your Gaze.

Certified Professional Coach and facilitator of Prepare/Enrich.

15 years of educational instruction in secondary schools, universities and on the ground with workshops and seminars.

Karim has mentored over 1000 clients in the last decade and is working on a practical model of Islamic psychology for Muslims in the west.
Focus: Women, relationships, coaching and productivity.
Hala Embabi
M.A. in Middle Eastern studies.

Fluent in Arabic and has multicultural professional experience.
Hala is a candidly curious coach who aims to share pieces of relevant advice, seek out different perspectives, and navigate possibilities with her clients. She brings her passion for learning about people into the realm of coaching where she helps them prioritize and balance their personal hurdles. Hala partners with clients on their journey to help them design their vision of success and take action to realize their goals. She prides herself in building open, collaborative, and trusting relationships. Hala is particularly passionate about emotional intelligence and relationships.
Focus: Women, emotional health, relationships.
Monique Hassan
Honors Bachelors of Science in Psychology and a minor in Biology.

Certified in Crisis Prevention and Intervention.

Annual training in Verbal De-Escalation.

Patient counselor at behavioral health hospital.

Monique has years of professional combined with personal experience in not only healing from emotional scars and past wounds but growing from them. Today she helps others identify triggers, develop coping skills, conflict resolution, revert/convert care and working towards a happier more balanced quality of life. Monique is a writer specialized in Islamic Psychology and Behavioral Health, check out her page for professional writing services and read her blog here.
Focus: Parenting, early childhood, women, new families.
Jailan Heidar
Certified Early Childhood Educator from UCLA.

Master's of Science degree in Child & Family Studies from Leiden University.

Certified Positive Discipline Parent Educator and Trainer and mother of two.

Founder of Early Years Parenting where she supports families worldwide.

Originally from Cairo, Egypt, Jailan has been living in Europe with her husband and children for over 10 years. She supports families of young children who struggle with everyday parenting challenges learn positive and effective parenting tools to add confidence and calm to their life. Jailan is passionate about enabling parents to create long-term loving and respectful relationships with their children. The base of which starts with the patterns set in the early years. Her multicultural upbringing and personal life experience have been an asset to her work in supporting families internationally.
Paula Prado
Paula grew up in Rio De Janeiro and has a Doctorate in Business Law and practiced for several years in Rio. She later decided to take enrichment English courses in the Unites States where she embraced the path of Islam and found a new calling to serve the Muslim community. She became a certified child development specialist, and provides event planning and space organizing consulting in her spare time. Paula helps administer Noor events and operational tasks.
Check out Paula's professional organizing services to enhance your home or office space at Niftyneatspaces
Focus: Arabic, spiritual counseling, Qur'an.
Mohamed Serageldin (Advisor)
In 2009 Mohamed ventured to Egypt to study Arabic, Fiqh and complete his Quran memorization. He is currently an instructor at a vibrant Zawiya (religious educational center) in Cairo where international and native students attend. Mohamed earned his Bachelor of Science in Mechanical Engineering from Boston University and his certification for Quran and Tajweed (science of recitation) through renowned Azhar scholars. He is also a student of Shiekh Muhammed Al-Jilani from the Gambia. Currently he is the CEO of Basmala Beads and ArabicSquare.
Dr. Omar Reda, MD (Advisor)
Founder of Untangled. Receiving his master's degree from Harvard University in Refugee and Global Mental Health after completing medical school in Libya and while undergoing extensive training with the University of Tennessee, Dr. Omar Reda is now a board-certified psychiatrist practicing at the Providence Healthcare System.
Dr. Reda is a leading expert in Psychotraumatology and Trauma-Informed Care as well as the mental health of Muslims, immigrants and refugees, the Libyan revolution, and the Arab Spring, and is the author of several books and a highly sought-after dynamic public speaker.